We have this hope as an Anchor for the soul, firm and secure.
The core values of our Anchored Kids Ministry are found in Luke 2:52 and Hebrews 6:19. Our ministry philosophy is rooted in the principles found in these verses. Our prayer is that children come to saving faith in Christ and develop into fully devoted followers of Him. Our primary strategy to help children grow in their faith and relationships with one another is through our Sunday morning elementary and PreK kids worship hour, WOW, which stands for Worship Our Way.
If you have any questions about Anchored Kids, please contact Mrs. Heather by email.
CLICK HERE
We love our children and our volunteers. We require volunteers to undergo a background check and training with a ministry leader. If you have asked to volunteer in our children's ministry please
CLICK HERE
to complete your background check and a ministry leader will contact you soon.
Find us on Facebook.
CLICK HERE
Hey Anchored Families! Another fun event is coming up for your kids and we'd love if you would join us. On Friday, September 24th from 6:30-8:30 you can drop off your kids for a movie night and enjoy a few hours for yourselves! The nursery will be available for any babies while the older kids will enjoy a movie night with pizza and popcorn. Be sure to mark the date on your calendar and we hope to see you there! Please RSVP for this event by emailing
jess@fbcvenice.org
.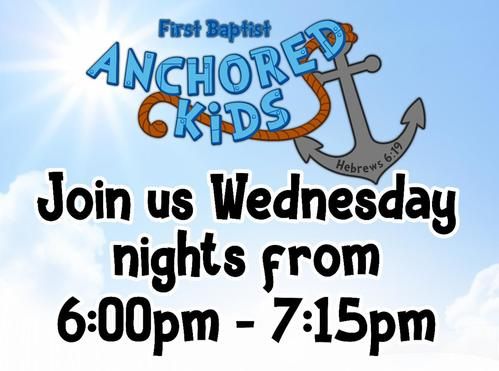 Join us for some super fun activities for the kids the 1st - 3rd Wednesday at the Miami Campus and every 4th Wednesday of the month at The Lakefront Campus as well as .
If you have any questions about Anchored Kids, please contact Mrs. Heather by email
HMitchum@fbcvenice.org
We'd love to hear from you. Fill out the form below to get started.